How much fun is it to make farmhouse home decor! Stringing wooden beads is a wonderful stress-free project that can take you away from even the most overwhelming of days. On this particular project, we are taking things up a notch from the usual tassel with all natural wooden beads and simply jute tassel. This twist has me loving all things color. Crochet covered wooden beads in gray, navy, and blue adorn this tassel as never before. Combined with a beautiful, gray-colored jute twine makes this diy decor project super unique. The uses are endless as I found myself using it on vases and wrapping it around candles and laying it across stacks of books on a tray. Your creativity is your only limit.
Not to mention, it was a blast to make— watch here >>>
BACK STORY
Gone with the Wind has always been my favorite movie of all time. Growing up I would watch it over and over… after all, my mother named me after Melanie, one of the main characters in the movie. I never told her that I was disappointed because I secretly wanted to be Scarlett O'Hara instead; beautiful, brave and bold! Scarlett is famous for many of her lines in the movie—but I particularly love, "Great balls of fire, don't bother me any more and don't call me sugar!"
As the years have passed, I've come to appreciate my namesake, Melanie Hamilton, because her character in the movie is everything I hope to be—kind, wise and selfless. The movie is a classic and everyone should see it at least once in their lifetime. At least that's my opinion.<<<
Funny thing is, while there are grey crochet balls in this quick little
farmhouse decor
diy
project, it literally has nothing to do with the movie, ha! So many of you asked where to get the colored, crochet beads for this project, so here is the list of resources I used >>>
Shop the Project- Grey Balls of Fire Wooden Bead Tassel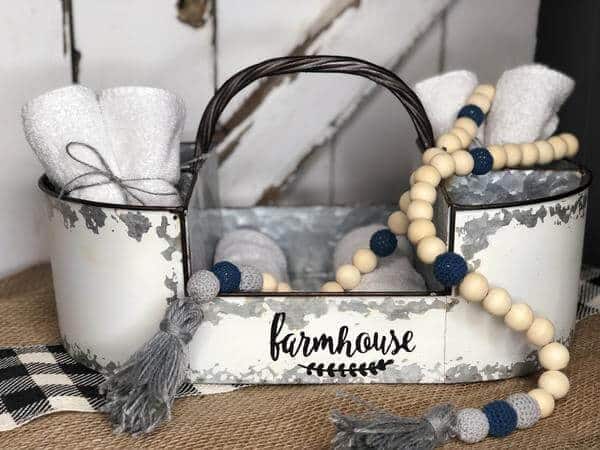 It worked perfectly for staging this rustic farmhouse galvanized caddy! Viola!
These fun, farmhouse diy beaded wooden tassels are one of the newest trending pieces in home decor—they can be purchased literally everywhere! But it's more fun, relaxing and gratifying to make them yourself and then it can be customized <<<my favorite part! What do you think? How about you?
>>>Leave your thoughts below in the comments please… BTW— Life is short—Enjoy the mess!
**P.S. Please join us over on our
Facebook Page
to see more fun projects "Live".