I truly hope we get to meet in person soon; but until then, here's the scoop! I am a Southern-raised & Jesus-blessed creative entrepreneur whose dream is to inspire others!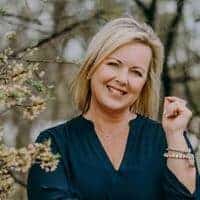 My primary passion has been helping homeowners stage, market & sell their homes for the past "umpteen"<<is that even a real word? (17) years. My husband and I have also bought and sold several real estate investments, including our most recent endeavor a historical building in the downtown area of the small Texas town of Krum. Here is where we owned a small (well okay 3,000sqft) home decor shop where we sold fun & trendy pieces to use to decorate your home. With a small population of around 5k people, Krum reminds us of our small town roots, so we chose to raise our kiddos here! They are growing up so fast–one is in college and one is halfway through high school now–Yikes!
Through my years in real estate as well as
home decor
, people are always asking me what I think they need to do in order to
"fix up"
their home. You know, like
"I love this but how do I make it work for my home?"
or
"You just need to come to my house and show me how to decorate!"
Since it's
'virtually'
<<now that's funny! impossible to help all of my clients one-on-one, I decided to try and help as many people as I can online. Slowly, but surely, this has evolved into a full-blown love of mine to
create & share trendy, fun decor
! One of my favorite things to do is go
"junkin"
to find
amazing & unique
pieces to use to decorate!
Painting
is a close runner up and serves as a sort of
"therapy"
to relax and melt away the cares of the world! Try it for yourself!
My hope is that you don't feel stuck with a home you aren't absolutely in LOVE with–but instead you find the inspiration you're looking for on this page to easily create & decorate a home in which to live happily ever after…
Be sure to follow me on my blog and other social media!